The Nike Blazer: conceived in 1972, it had one simple purpose; to have the shoe colour contrast with the Nike swoosh. 40 years on it is still doing just that. These shoes are a timeless classic and for this reason are a VA-Garments must have.
Originally a basketball shoe for NBA team Portland Trail Blazers, they soon became iconic nationwide. NBA superstars (shown below) were most famous for wearing the Blazers; this therefore increased the awareness of Nike as a brand, and the swoosh logo, now the most recognisable fashion logo worldwide, was the most sought after shoe on the market.
Fast forward with us 40 years, this iconic shoe comes in various different shapes, sizes and materials. From low-top blue suede to hi-top red nylon, this shoe is essential for your wardrobe. The specific shoe I will be focussing on is the newly released and exclusive Nike Blazer Hi Vintage White and Purple Leather. Adaptable and easy on the eye, these leather trainers will be a gem to clean in comparison to the suede hi-tops (I would know, I have a purple pair!). I wear these constantly due to their durability and comfort.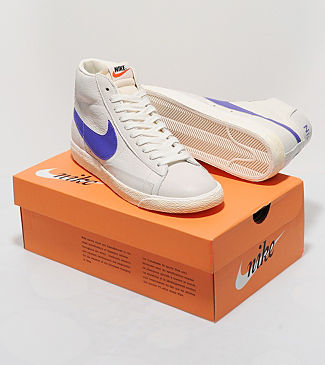 P.S. Don't worry if you have big feet, they do not look over the top or clown-like!
BE SURE TO CHECK BACK FOR OUR NEW FEATURE: THE WEDNESDAY WARDROBE, WHERE EVERY WEDNESDAY WE WILL BE POSTING AN OUTFIT YOU CAN EASILY CREATE AND REPLICATE USING THE CLOTHES FROM A PREVIOUS POST IN THE WEEK.
FOLLOW US ON TWITTER @VA_GLTD AND SIGN UP TO OUR MAILING LIST SO YOU'RE THE FIRST TO SEE THESE EXCLUSIVE STYLES.